So right now my new favorite show is called...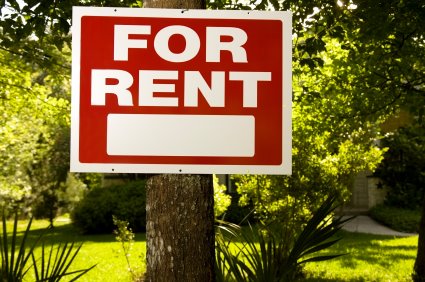 The host actually really annoys me, but I love it because it's all about young professionals (aka people my age) who can't afford to buy so they're looking for a place to rent. The host also designs their new space and gives it a facelift, so it's like House Hunters and Design on a Dime all in one! It makes me wish we had painted when we first moved in... however I probably wouldn't have been able to decide right away, since we didn't even have all our furniture yet nor did I know what my vision was. After being here for almost 9 months, I think I have the living room and dining room just how I want them! They certainly have come a long way...
Just moved in!
Looking a little better
And now after months of adding little things here and there, I feel like it is finally finished!
My biggest purchase was the khaki slip covers, but they are also the most defining upgrade since I didn't want forest green in my color scheme. I probably spent about $200 on those, using our wedding gift cards to
Bed Bath & Beyond
. But they were so worth it - they totally change the look of the room!! The red curtains are also from BB&B. The coffee table and end table were from Craigslist for $40 - what a steal! The poppy painting was from HomeGoods, also for $40. The floral pillows are from Pottery Barn's fall 2010 collection for $29 each, plus the pillow insert, and the white texture ones are from Wal-mart for $13 each! Go figure.
The TV Stand was from the
Mission Collection
at Target online, and we got in when it was on sale and used a promo code, so we probably paid about $130 for it. The standing lamp next to the TV stand was an ugly fake brass hand-me-down that I spray-painted and now looks awesome! The leather/wooden chair was also found on Craigslist for $20. The frame collage above this chair was a combination of frames I found at HomeGoods and Ross.
This cute little secretary I found on Craigslist for $40. I feel like it's a piece I will have for a long time. It could be painted to make it a little more modern, but right now I like the antiquey style.
The dining table we already had, but I didn't have a picture up of that before, so this is it! The painting is a piece done by Michael's mom. Accessories are from World Market, BB&B, and HomeGoods.
This project has seemed to take forever, but since I did it over 9 months time, it didn't break the bank. I take a long time to decide on things anyway, so this method is useful for me. I will literally buy things and put them up for weeks with the tags still on because I am still undecided about them! When you're designing a new space, don't feel like it has to be ready right away. You usually end up picking things out in a hurry just get
something
up, but it's really not the best or your favorite. Take your time to shop around, and sometimes things just come to you.
I will put pictures up of the master bedroom once that's finished!
Pictures are up!! Click here to see our master bedroom >> The Master